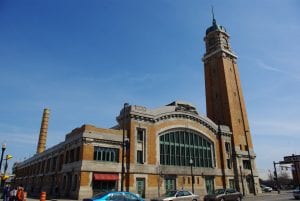 After 107 years in existence, The West Side Market is still the cornerstone of the west side and a jewel in the crown of Cleveland. Boasting 100 vendor spots inside and 81 spots outside, it is and has always been the center of grocery commerce for the people of Cleveland.
Recently the West Side Market has seen some struggles. Nothing it can't handle and hasn't overcome in the past, but we thought it was a good time to show our market some love and remind Clevelanders that it is still one of the best places in the city to get local produce, meats, pastries and more.
Currently, there are discussions of turning the property, which is currently managed by the city of Cleveland, over to a non-profit entity that could manage its upkeep and fundraise on its behalf, promoting and marketing the unique space as a premier location for business start-ups and local flavor.
Read more here: Who Will Save The West Side Market
The West Side Market is a bastion of culinary creativity and a living organism of entrepreneurial passion and cultural celebration. It is the embodiment of what makes Cleveland, well, Cleveland.
If you're looking for fresh fish, spices, locally grown fruits and veggies, fresh-baked breads, fresh pasta, handmade confections, homemade pierogis, hot prepared cuisines, imports, coffee……look no further. And the market is now open Sundays from 10 to 4 making it even easier to get there and stock up on your favorite local treats.
Click here to get all the details on the market: West Side Market
Have a favorite story or memory of The West Side Market? Share it with us on Facebook!