Halloween Fair is back! This family-friendly spooktacular event brings back the haunted walking trail, train rides, food booths, games, and more! Tickets are limited and available by pre-sale only. Tickets are only $5 per person, with children three and under FREE! Tickets go on sale on September 26 and will be available for purchase online, by calling (440) 458-5121, or in person at the Carlisle Visitor Center 8:00 am-4:30 pm daily.
ADMISSION
Admission to the Halloween Fair is $5 per person, with children three and under FREE! Admission includes access to the haunted walking trail and rides on the Little Green Choo and Pumpkin Express tram. All visitors must wait in the trail queue line each time they wish to enter the trail or ride the train/tram.
Tickets for the Midway Games can be purchased at the Friends of Metro Parks booth located at the start of the game Midway.
**PLEASE NOTE** Parking gates close at 9:30 pm. The admissions booth closes at 9:45 pm.
PARKING
Parking will only be available at the Carlisle Visitor Center; carpooling is encouraged. As always, parking is free. Staff will be on hand to direct parking.
**PLEASE NOTE** Parking gates close at 9:30 pm. The admissions booth closes at 9:45 pm.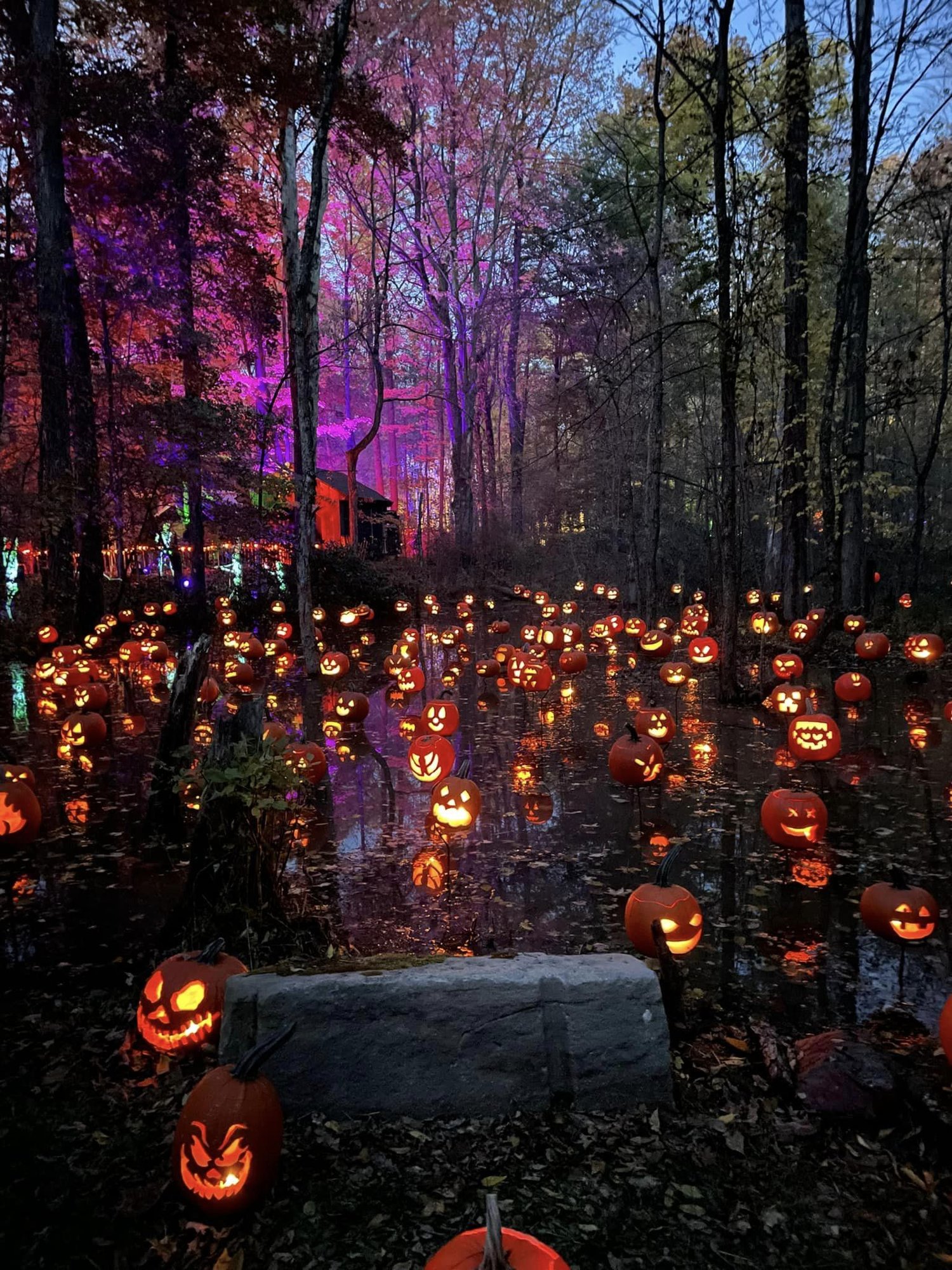 HAUNTED TRAIL
The non-spooky family-friendly trail will be open from 4:30-6:30 pm. Visitors will enjoy favorites like Pumpkin Lagoon before the larger spooky attractions begin.
The haunted walking trail is CLOSED and will be cleared from 6:30-7 pm.
The trail turns scary from 7-10 p.m. The haunted trail invites guests to experience a number of walk-thru spooky and startling stations equipped with actors and other trail side scenes featuring mechanical scare props.
LITTLE GREEN CHOO & PUMPKIN EXPRESS TRAM RIDES
The Little Green Choo train and Pumpkin Express tram will continuously run from 5-10 pm around the non-spooky Children's Nature Discovery Trail. Riders will enjoy inflatable Halloween characters and other family-friendly displays. Each ride will last approximately 7 minutes. Lines close by 9:30 pm each night to accommodate waiting passengers.
GAMES & ENTERTAINMENT
Halloween Fair features plenty of low-cost children's carnival games! These games are operated by the Friends of the Metro Parks, and visitors must purchase tickets separately from the game-ticket booth (cash only).
Entertainment during the event also includes a live DJ with fun dance music, face painters, balloon artists, and more! Entertainment acts vary depending on the night.
ALL-ABILITIES DAY
Thursday, October 12 | 6:00 – 9:00 pm
Enjoy Halloween Fair with lights and sounds limited to reduce stimulus. Trams will be available on the haunted trail on a first-come, first-served basis for mobility needs. All-Abilities Night packs in all of the same event fun, including the family-friendly haunted trail, Little Green Choo rides, food trucks, and games.
The number of tickets sold will be reduced to allow for shorter, more accommodating wait times. Both the train and tram can accommodate wheelchairs. Service animals are welcome. All-Abilities Night is just one more way the Lorain County Metro Parks strives to make our parks and events accessible to and inclusive of ALL Lorain County residents.
For more information & to get your tickets, visit: loraincountymetroparks.com/halloween-fair