You've seen them here & there across social media but have you visited them all?
Originally installed in 2016 by Destination Cleveland as a way to boost tourism, there are 6 signs all spread throughout Cleveland & mostly the west side with the exception of one in Euclid.
These can easily be visited in one day & are a great activity to do in any season.
1. EDGEWATER PARK
I think this is the most photographed one out of the bunch & understandably so due to the picturesque view of the city skyline in the background as well as beautiful Lake Erie. While you're there: explore the beach, go for a walk, & check out the new playground that is coming soon!
2. NORTH COAST HARBOR
Located in Voinovich Bicentennial Park, this is my 2nd favorite sign as I just love the North Coast Harbor. You can usually find parking on the pier for as low as a dollar if you don't plan on staying too long.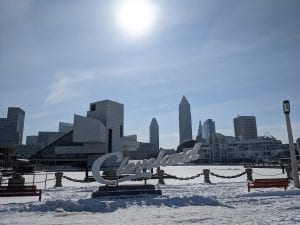 3. THE FOUNDRY
Located in The Flats, this sign also offers a great view of the city skyline. It's super close to Merwin's Wharf so while you're there, spend some time at a great metropark.
4. TREMONT
The Abbey Ave sign in Tremont has parking closeby & is close to the Ohio & Erie Canal Towpath trail if you were looking for something else to do besides the photo op.
5. CLEVELAND AIRPORT
A sight for sore eyes coming back from a trip, this sign is located in the airport at baggage claim. I'm not entirely sure if you can just access it to go see on a whim but if you have any travel plans, be sure to take a sec & snap a pic before heading home.
6. EUCLID BEACH
The only sign not directly in Cleveland or the west side is the Euclid Beach sign located in Euclid Creek Reservation. Pro tip: if you're coming from the west, it's the second entrance on the left on Wildwood Dr. Cross the walking bridge & you'll see it right there adjacent to the lake.
Make sure you're following along on IG: @clevelandmoms
Tag & use #clevelandmoms for a chance to be featured!