A couple of weeks ago, my family went on a much needed weekend getaway to The Mohicans. It was also my husband & I's 12 year wedding anniversary & it couldn't have been any more perfect. This wasn't our first time at The Mohicans. Last winter, we stood at one of their treehouses, El Castillo. This time though, we were excited to stay at one of their newest properties – a completely renovated cabin from the 1800s, The Manor.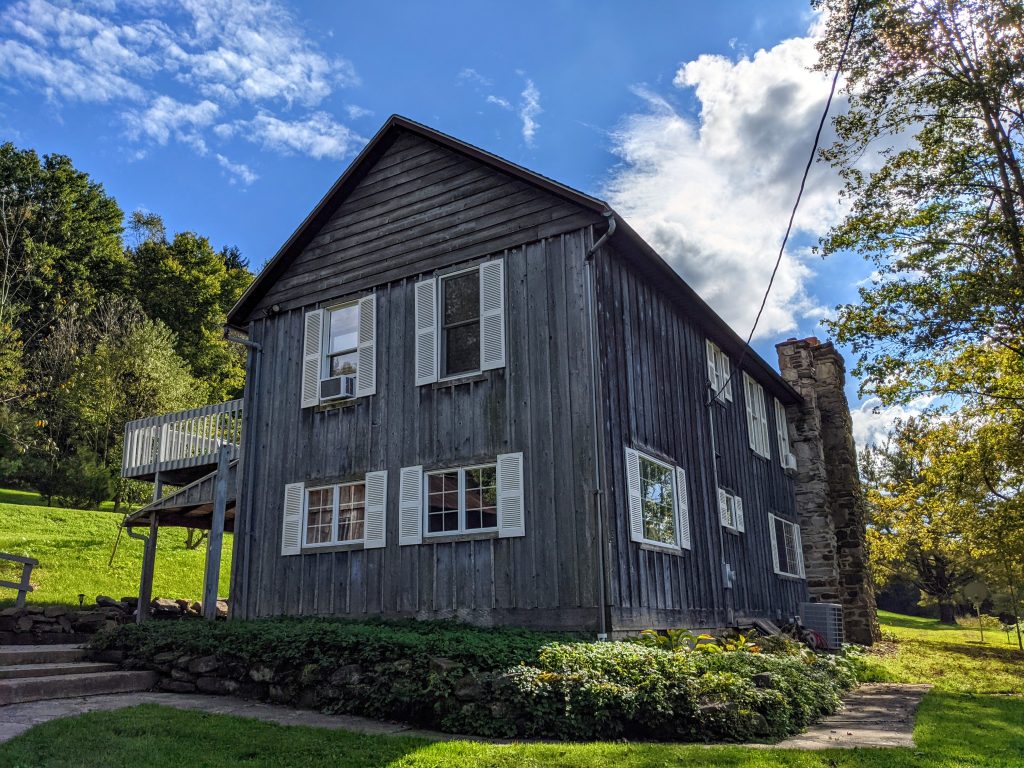 The Manor is located a short six minutes away from The Mohicans Treehouse Resort, nestled among the Mohican Valley. It is 3 bedrooms & 3 baths with plenty of space to stretch out in. There is a living room with a stone fireplace (decorative), a dining room fit with a gorgeous table big enough for 12 people, & a kitchen stocked with everything you'd need to enjoy a beautiful dinner right inside the cabin.
On the second level, you'll find 3 bedrooms – 1 with 2 queen beds & a great skylight, 1 with a king bed, 1 bathroom, & the master suite which has an en suite bathroom – a really nice luxury to have while away. Worth noting that all 3 bathrooms have walk in showers with no tubs. We had no issue with that whatsoever & found them extremely comfortable. The master bedroom also has a private balcony with stunning views of the property.
Outside of the property is just as impressive as the inside. There is a grill on the back patio available for use & up a little hill is a fire pit with a large picnic table that we utilized quite a lot. It was still one of those incredibly warm October days when we went so we took advantage of eating outside as much as we could. I'd highly recommend packing lots of snacks & food so you can easily just do meals at the cabin. We stayed two nights & were able to do this with no problem. The closest grocery store (an IGA) is around 15-20 minutes away though in case you happen to forget something.
As far as restaurants nearby, your best bet is in Loudonville which is a small town (where the IGA is) 15-20 minutes away.
Now let's get to the fun part – you've got this amazing cabin to come back to after a long day exploring. Here's just some of the things you can do nearby:
Mohican State Park – A gorgeous state park to explore that is also only around 15-20 minutes away. Don't leave the area without seeing the covered bridge there. It is beautiful & the surrounding area for hiking is just as gorgeous. There are a ton of trails to hike if that's what you're looking for.
Mohican Fire Tower – Climb the 80 feet tall fire tower all the way to the top & admire the beautiful view. They only allow a few people up at a time so use extreme caution when coming up & down. It's not for the faint of heart.
Gorge Overlook – Hike the trail or just go down a few steps to see the stunning view.
Pleasant Hill Dam – The name says it all but I'd say it's worth a stop if you're looking for beautiful scenery. Also lots of hiking trails to explore.
Landoll's Mohican Castle – We missed visiting here the last time to see the castle so we made sure to stop by this time around. Such a unique attraction, most known as a wedding venue. We stayed & had lunch at the restaurant there – The Copper Mug Bar & Grille.
Downtown Loudonville – We were in town when they were celebrating their annual Street Fair so it was fun to walk around & check out all the cute shops around their Main Street.
Mohican Adventures – The fun center has everything you may be looking for when it comes to outdoor fun. We did their 7 mile canoe trip & returned later for a round of mini golf. They also rent other watercraft & have a ropes course.
Overall, we had such a great time & can't wait to come back. I've only touched on just a few of many things to do in the Mohican area. With The Mohicans only being under two hours away, I am sure we will be back soon to explore even more. It's a great weekend destination when you just want to relax & be in nature.
For more information on The Mohicans, please visit: TheMohicans.net & follow along on IG where they often share any specials they may be having (which is VERY often): @themohicans