Over the long break on President's Day weekend, we planned a trip back to Columbus. In case you missed it – around Christmastime last year, we headed to Hocking Hills for a few nights & made a pit stop in Columbus on the way down. We enjoyed our time so much we were eager to get back soon & we did to kick off our first trip of 2022!
The first thing we did when we got to the area was head to Legoland Discovery Center. We had gone to one of these Discovery Centers before in Arizona a few years back & knew it wouldn't take much time to get through so we planned to explore that before heading to our Airbnb. I will start by saying absolutely none of this trip was sponsored, comped, or paid for so you're going to get honest opinions here.
It is definitely not a must-see. I'm not 100% sure if it's open yet but when we went, one of the two "big" rides was closed down. I found the area rather disorganized & at the time we went, it was honestly a mess. The main attraction for my kiddo was the Lego Racers: Build & Test area. This is where you can build cars & race them down ramps & such; however, it was completely destroyed & oftentimes, we couldn't find the pieces we needed. I will mention that we were there on a Friday night so that could have been a contributing factor. If you're eager to experience this place for yourself, I'd definitely recommend going when they first open. Here's a code I found on the web to get a free child's ticket with the purchase of one adult admission: 199940 so if you have two parents going, two kiddos will be free!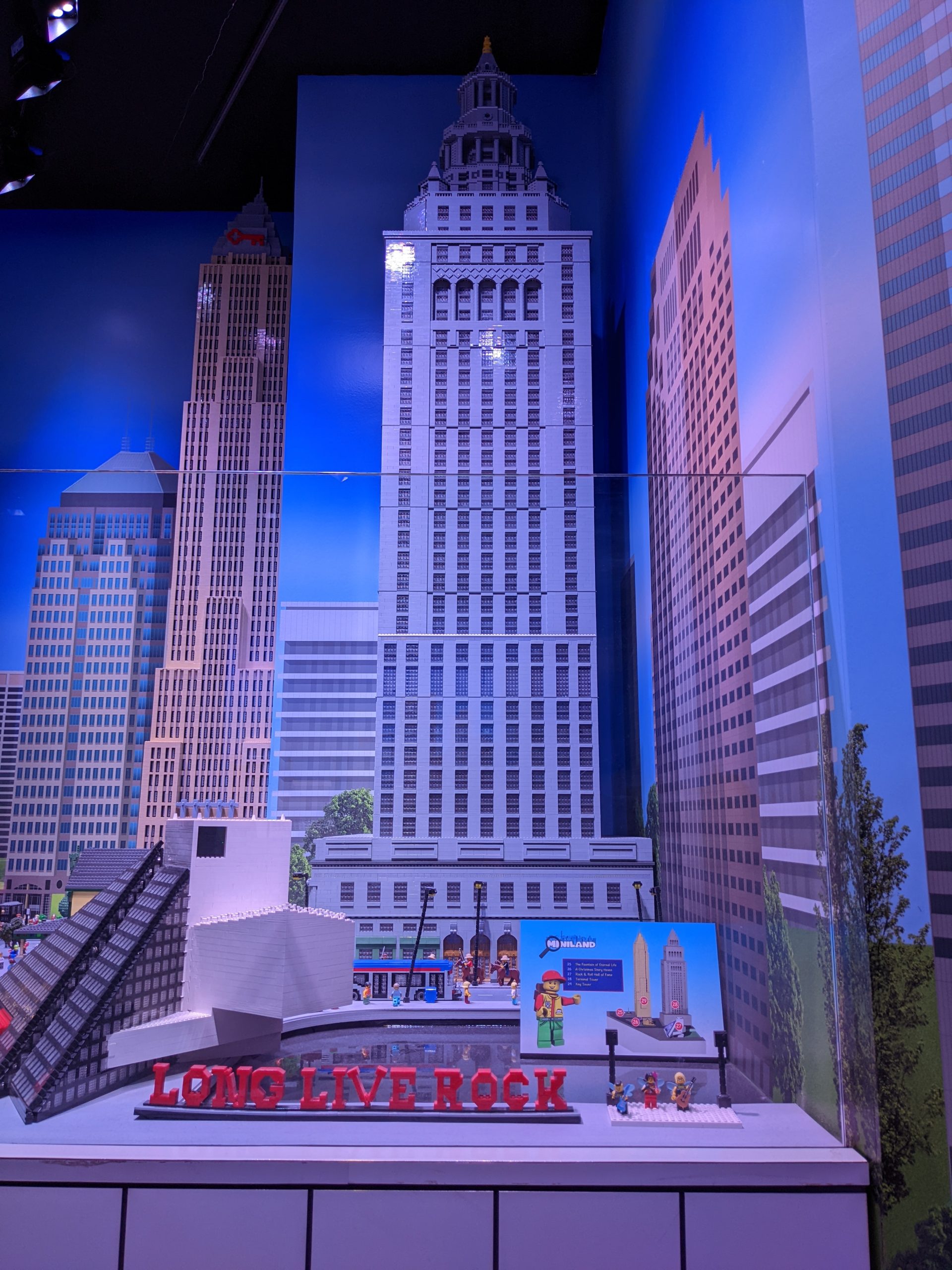 Legoland Discovery Center is in Easton Town Center which is a GIGANTIC version of Crocker Park so we stayed put to grab dinner before heading in for the night. We visited BJ's Restaurant & Brewhouse to get our hands on a Pizookie for the first time! We enjoyed our meal & if you want to try them out, there's actually a location in our area in North Olmsted.
We then settled in for the night in our Airbnb which was a pirate themed experience. We surprised our kiddo with where we were staying & he was floored. He thought it was going to be a "basic" Airbnb when we first arrived. Boy, was he in for the surprise of his life when we first walked in. I found this place just while searching Airbnb for the dates we needed. I shared a few stories on IG about it & after a lot of inquiries, I'm sharing here in case you're interested as well. Again, I am in no way affiliated with the owners – it was just a really unique experience so in case other parents want to plan something similar, this was where we stayed. Feel free to reach out to me directly for a link to the rental!
I will say though that this house is not very baby/toddler/little kid friendly. It's not the biggest as far as space to spread out/lounge & also, a lot of the decorations take up most of the room (especially the main floor.) I don't see it being very comfortable if you have a bigger family. There are 3 bedrooms upstairs with a bonus 4th bedroom through a secret passageway in one of the bedrooms. The trap door to this is super small so not everyone may fit through. Definitely a fun experience for my son – there was a lot of neat touches like gold coins hidden throughout the house & swords/other things to dress up as pirates. He had fun hanging out up there & then coming back to the bedroom to sleep for the night so he had access to a bathroom vs navigating steep stairs in the middle of the night in case he needed it.
The next morning we started our day with breakfast at Katalina's for their infamous pancake balls. My son & I tried the Nutella ones & they are to die for! SO SO GOOD! We visited the Harrison West location & it's worth noting that the indoor dining area is rather small so get there early. A fun tidbit about this location is that you can write all over the walls & furniture with paint markers that are provided – just be sure the kiddos don't write where you're planning on sitting/eating since the markers are very wet!
Next, we headed to the Columbus Zoo & Aquarium which I recently fell back in love with. It was super frigid the day we went but there are so many really great indoor exhibits. Our favorite were the manatees & adventure cove which houses sea lions & seals. It made me wish our zoo had something along these lines. Really beautiful to see & experience. The other indoor area we really loved was the huge stingray bay – we even got to see the brand new babies! Highly recommend. They also had a baby gorilla & elephant who were ADORABLE. For lunch, we swung by City BBQ which was very closeby & pretty good. If you find yourself in the area in the spring, Graeter's Ice Cream was right next door.
After the zoo, we decided to swing by Aquarium Adventure next which is a retail store for aquarium enthusiasts BUT the amount of tanks they had is an attraction in itself & obviously, it's free so we checked it out. There was even a tank where you can touch a few things but we didn't do that because there was quite a few little ones practically swimming in it. 😂
That evening we also went to Build-A-Bear in Easton Town Center & got takeout from Loops.
On our last day, we got breakfast from What The Waffle & headed to COSI for another visit. We have an annual pass to Great Lakes Science Center & through the reciprocation program, you are able to get into other science museums for free so if we're in Columbus, we are definitely going to COSI!
The last thing we did was stop by IKEA because why not?
Overall, I think Columbus is a great weekend trip from Cleveland even if you only have one night to spare. We really enjoyed our 4 day weekend exploring more of the area & hope to be back soon sometime in the spring or summer when the weather is nicer.
Here are some other popular destinations to visit:
Columbus Museum of Art
Franklin Park Conservatory
Jeni's Splendid Ice Cream
Ohio History Connection
Olentangy Caverns
Otherworld
Scioto Mile
Quarry Trails Metro Park
Topiary Garden Park
For more road trip destinations, visit the TRAVEL section!