Last month we were invited to stay at Your Family's Place Mount Pleasant Lodge & we had such a good time, I wanted to share.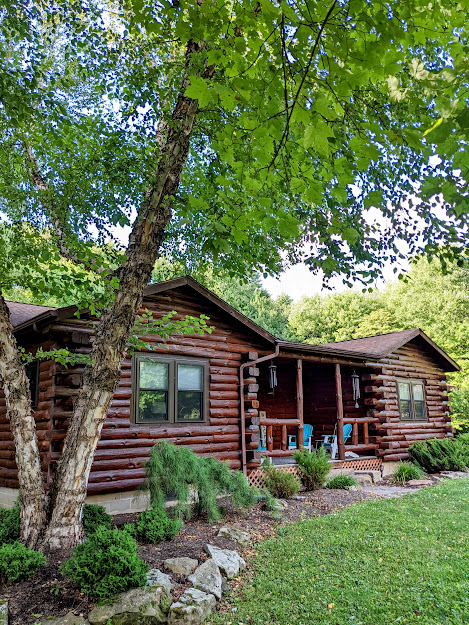 Mount Pleasant Lodge is one of two properties that Your Family's Place has. I love a good log cabin & this one was at the top of our favorite rentals we've ever stayed at. Mount Pleasant Lodge is located in Dover, Ohio – a short drive depending on where you are in the Cleveland area & minutes away from I-77. We've visited this area before & I love how it has Hocking Hills vibes without the long drive!
The house has 4 bedrooms & 3 bathrooms – large enough for family get togethers or simply just space to spread out! It's located on a private 15 acre lot & offers complete privacy. There's woods that surround the property & no one else in sight – which is a major plus in my book.
Some of the other outdoor amenities include hammocks spread all throughout the property, a playground, firepit, hot tub, & my son's favorite: a zipline!
Inside you'll find a gorgeous kitchen, dining area with the most beautiful table & chairs, a sitting room with fireplace, & another favorite of ours – the playroom (aka the basement.) We spent most of our time down there. There was a ping pong table that converted into a pool table, karaoke, air hockey table, video games, a tv, & lots more I'm probably forgetting. As a mom to pre-teen, this was a hit! Lots of quality time spent while making memories. Keep reading for a coupon code to save $100 on this & other properties Your Family's Place has!
What was also nice about the basement was that it led to the outside patio where the hot tub is – super easy to navigate & enjoy some relaxation.
According to their Instagram page, the back of Mount Pleasant Lodge has been rearranged some to add a concrete pathway from the hot tub to the front of the house making it incredibly accessible. They also relocated the firepit to the backyard as well.
We weren't originally planning on exploring Amish country but Mount Pleasant Lodge is so close to it, we figured why not?! A lot of you recommended some fun things to do when I asked on Instagram so I'm going to share some of what we did. PRO-TIP: Amish Country is CLOSED on Sundays. Like, everything. Nothing touristy is open on Sundays. To the follower that mentioned this to me, thank you!
We first started at breakfast at Dutch Valley Restaurant. We opted for the breakfast buffet which ended up working really well since we were determined to head over to our first destination early. It wasn't massive but good for a quick bite before a busy day!
One of the most popular things to do that you all said to do was the Farm at Walnut Creek. I am thoroughly surprised at how much we liked it! It's a drive through farm much like the African Safari Wildlife Park in Port Clinton but the difference is how picturesque it is. Who would have thought you could get up close & personal to a zebra in Amish country?! The best part about this farm was that you can drive through as many times as you'd like. We went twice & saw different animals each time. My favorite was a mama warhog & her babies. They were adorable & unlike anything I've ever seen before. There's also some attractions to walk through like an aviary & some other animals including buildings you can visit as well – don't forget your free cookie at the main house! If you go on a weekend, I'd definitely recommend getting there as soon as they open.
Next we headed over to Amish Country Byway strip that has a lot of small shops to walk around & we also stopped for an early lunch which I would HIGHLY recommend doing especially on a weekend. We opted for Der Dutchman which was one of two restaurants in that little area. We figured if we were in Amish Country might as well try their food! We went at 11 & there was hardly a wait. When we left at about noon-12:30, the line was out the door AND around the corner! I was so shocked to see what a wait they had. It's not surprising because the food was really good – try the chicken sandwich if you go! One of the best crispy chickens I've ever had & I am not exaggerating.
Some other stops we made along the way in the Walnut Creek area:
Coblentz Chocolate
Carlisle Gifts
Country Store
Walnut Creek Antique Mall
Walnut Creek Cheese
Walnut Creek Amish Flea Market (FYI – they charge $1 to park & honestly not sure why they call this an "Amish" flea market – there wasn't many Amish vendors – we left empty handed)
While in the area we also swung by the Sugarcreek area home of the world's largest cuckoo clock! The town was actually open this time around (we always seem to be in the area during the fall/winter so we stuck around for the little show that happens every half hour at the clock & then visited the Alpine Hills Museum which is a free historical little museum with some interesting displays.
All in all we really enjoyed our trip to stay at Mount Pleasant Lodge & exploring Amish Country. If you want to do the same (or just hang out at the property all day because honestly you can with the amount of things to do), Your Family's Place is giving The Cleveland Moms readers a coupon code that will get you $100 off a stay at any of their properties including Mount Pleasant Lodge. I almost forgot to mention Your Family's Place's properties are PET-FRIENDLY! Bring those fur-friends along on your next vacation!
Use code: CLEMOM to claim your savings! This coupon code is good through 2022 & can be used by anyone!
For more information & book your stay, visit: https://yourfamilysplace.com/
For additional travel related articles, visit the TRAVEL section.