I am super excited to share TheClevelandMoms.com first Meet-A-Mom of 2023!
Alli is the founder of Frazier Behavioral Health in Mayfield Heights which delivers individualized therapy for children and adults with behavioral, physical, social, communication, and sensory issues.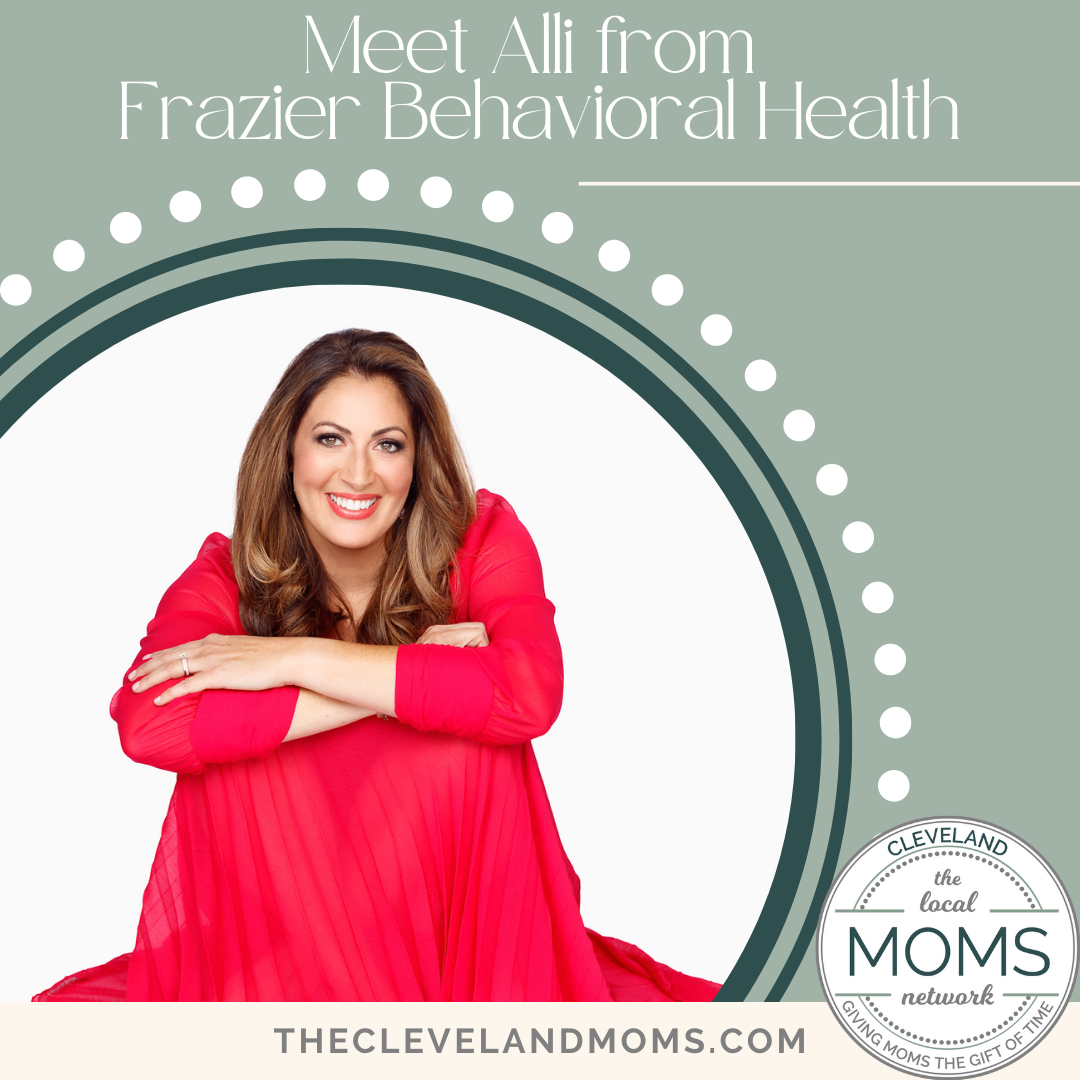 Hi Alli, tell us a little about yourself & family:
I am originally from Kentucky, but I have lived in Cleveland since 1998. My husband Tom and I have two children aged 19 and 17.
What are your favorite things to do with your family?
We love being active outdoors, cooking, and playing games.
What are some of your favorite things about NE Ohio?
My family loves the Metroparks, museums, and all the great restaurants.
What's your favorite family-friendly restaurant in our area?
My family enjoys Arrabiattas in Mayfield Hts and Taza in Woodmere.
Please tell us about Frazier Behavioral Health! Why/when did you start it and how did you know this was what you wanted to do?
Frazier Behavioral Health (FBH) is a multidisciplinary practice that services neurodiverse children and adults. We provide diagnostic services, psychological services, speech language therapy, educational services in school, and behavior therapy in home and community. I started FBH in May of 2019 because I wanted to develop an environment where families felt welcome and supported while getting the best quality evidence based care. I have always had an entrepreneurial spirit and was eager to start a practice as soon as I become certified as a board certified behavior analyst (BCBA), but I knew I needed to master my own craft before starting a business. I have been in the field as a BCBA for more than 10 years. I have worked in a variety of settings to gain comprehensive experience across patients and environments. My work experience combined with being a mom of a child with autism makes me feel prepared to take FBH's services to the next level of comprehensive wrap around care.
How has your community been instrumental in getting you to where you are now?
In Cleveland we are fortunate to have great hospitals and universities. From the experts at these facilities I have learned a lot about how to provide quality behavioral health services.
What's your favorite part about what you do?
My favorite part is seeing kids thrive and family units become stronger due to the therapeutic interventions.
Do you have any advice for someone wanting to start their own business?
Do your homework, know your industry, be patient, and keep pushing through the hard stuff everyday.
What's your proudest accomplishment?
Building a family and raising two great kids is what I am most proud of. Secondarily I am proud of leading a business that puts kids and families first in everything we do.
Is there anything you would have changed or done differently with your business thus far?
I would not have started a new business immediately before a global pandemic! Ha! Hindsight is 2020.
How do you juggle being a working mom?
I manage being a working mom with calendars, organization systems, and lots of deep breathing.
Why do you love the work that you do?
I love the work I do because I am able to see families with neurodiversity thrive when they get the needed support and interventions for their loved ones. I like helping kids, parents, and siblings live their best lives.
Where do you hope to be in 10 years?
In 10 years I hope to be in a place where I can look back at the previous 10 feeling proud of the neurodiverse families our company has impacted in a positive way. I hope to be more involved in advocacy efforts and continuing to break down barriers to treatment and inclusion of neurodiverse individuals.
Who has influenced you the most to be the mom you are today?
I have taken lessons along the way from all the capable and courageous women in my life. I have been blessed to work with several strong female leaders who have taught me how to juggle multiple responsibilities and find work family balance. I have learned immense lessons from my grandmother who is wise, patient, and always sees the best in other people. My mother is an amazing role model who is hard working and persists through challenges. The reminder that kids are not an extension of you but their own people with their own individual wants and needs often helps put the hardest days into perspective. Reflecting on and celebrating the small achievements helps me feel like a successful mom.
For more information on Frazier Behavioral Health, please visit: https://frazierbehavioralhealth.com/